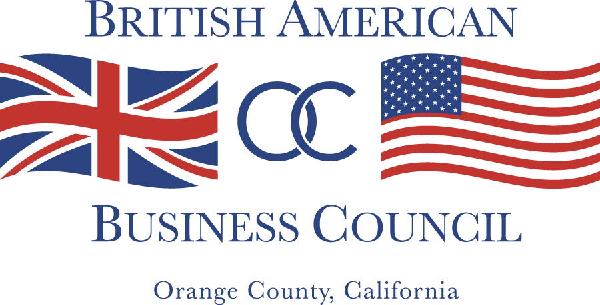 BABC-OC NAMES NEW EXECUTIVE DIRECTOR
Alison Tomko to Replace Retiring Executive Director Valerie Blackholly
COSTA MESA, Calif.—February 7, 2017 – The British American Business Council of Orange County, CA, (BABC-OC) has today announced that long-time Executive Director, Valerie Blackholly, is retiring after 25 years of outstanding service with the association. Alison Tomko, a very experienced sales and event manager and accomplished fundraiser, has been named as Blackholly's replacement effective today.
Shaun Robinson, a past Chairman and the Interim President of the BABC-OC, has voiced the regret of the entire organization at losing the services of Blackholly, but is very pleased in finding a top-class replacement. "We are sure that Alison will be a positive influence on the organization by continuing to uphold our primary mission, which is to foster commerce and friendship between Orange County and the UK. Additionally, Alison will build BABC awareness, interface with the British Consulate, work with our sponsors and assist British persons coming to Orange County as well as Orange County residents traveling to the United Kingdom."
"Born in the UK, Alison's love of all things British, her positive attitude and abundant energy are sure to enrich the lives of all persons, both British and otherwise," states Joey Benadretti, BABC-OC Chairman, who also voiced his praise for the services of Blackholly.
Alison brings extensive fundraising, plus event and sales management experience to the BABC-OC Executive Director position. "Valerie will be a 'tough act to follow.' She leaves a legacy of the highest standard," says Tomko.
Tomko was previously the Events Manager for the Tustin-based Marconi Automotive Museum & Foundation for Kids before assuming the BABC-OC post. "However," she says, "the wonderful work of the BABC and the legacy of service that Valerie leaves behind is definitely a challenge and a motivator."
Prior to joining the Marconi Museum, Alison ran events at Strawberry Farms Golf Club and had her own event planning company.
About BABC-OC
The British American Business Council of Orange County (BABC-OC) is a non-profit international business association with a membership of more than 100 Southern California-based companies and individuals interested in transatlantic trade. The BABC-OC provides a business and cultural forum that offers high quality networking and business opportunities for commerce, collegiality and community outreach, with a special emphasis on fostering economic growth between Orange County and the United Kingdom.
The British American Business Council (BABC) is the largest transatlantic business network, with 20 chapters and 2,000 member companies based in major business centers throughout North America and the United Kingdom. Its membership includes many of the world's largest multinationals, as well as hundreds of middle market and smaller companies.
The BABC-OC participates in the BABC to gain access to a broader transatlantic business network and additional member benefits, including access to business development, networking and marketing opportunities and to valuable business insights and intelligence.
For more information, please contact:
Joey Benadretti, BABC-OC Chairman, at 714-437-1000 or the BABC-OC at 949 472-2221.