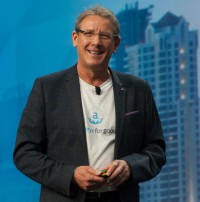 Dean Stoecker is Chairman and Chief Executive Officer, and a founding partner of Alteryx. Dean's leadership and motivational skills, along with his ability to create, communicate and realize a vision, are the driving force behind Alteryx's considerable growth and its focus on empowering data analysts worldwide. His understanding of business needs and the technology space has help fuel the impressive SaaS metrics of Alteryx since its inception.
Recognizing the generational shift in enterprise computing was creating a vast new market for self-service data analytics, under Dean's leadership the Alteryx software platform was born in 2006. Through a name change in 2010 and three rounds of funding totaling $163 million since 2011 and world class customers, Alteryx has become the recognized leader in the self-service data analytics space around the globe. Dean also has a passion for building a work-place culture that allows employees to thrive and grow in a performance based environment. With more than 400 employees in 8 facilities around the world, Dean has recruited a strong leadership team and board of directors to help drive the continued success of the company and its award winning software.
Prior to co-founding Alteryx, Dean held leadership roles at Integration Technologies, Strategic Mapping and Donnelley Marketing, a Division of Dun & Bradstreet.
Dean earned a bachelor's degree from the University of Colorado and his Master of Business Administration from Pepperdine University.